The Falls Center Apartments combine style and convenience like no other location in Philadelphia. Ten minutes from Center City, the Main Line, and the Northeast, with ample resident parking and public transportation options, it's easy to get home and easy to get where you need to go. Entering the front gate you are greeted by a year-round display of foliage and flowers from the many planting beds and stands of mature trees on the grounds. As you pass through the 40-foot-high classical columns at the front entrance, our 24-hour concierge will greet you in the restored grand lobby of this historic 1929 building.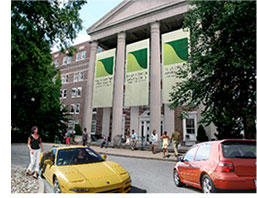 Apartment interiors will have a stylish loft aesthetic with historic touches, featuring exposed original brickwork, ceiling heights from 9 to 12 feet, and six-foot double-hung wood sash windows providing plenty of natural light. In the kitchen, clean modern lines and muted grey, black and white tones accented by stainless steel will offer contemporary simplicity and functionality. In the baths, brushed stainless steel fittings and white fixtures are softened by earth tone tiles on the floors and surrounds. Residents can take advantage of a full service on-site fitness center with juice bar, tanning salon, chiropractor, spa services, fitness classes, and personal trainers, or relax with friends in the billiards lounge. A 100-seat stadium-style screening room will show movies and be available for special events.

Poised at the historic Falls Center campus entrance, the Gatehouse Café offers the area's only bistro-style breakfast and lunch in a truly unique setting. Meticulously restored to its original beams, stone and woodwork, along with new contemporary design additions, the
Gatehouse Café
is the perfect blend of old world comfrot with today's modern sensibilities. Freshly baked muffins & cookies; gratifying grilled sandwiches, savory soups and tasty salads prepared in minutes; free wi-fi internet access; a walk-up gourmet coffee bar, charming mezzanine and outdoor patio for enjoying breakfast and lunch or for any casual meeting. Stop in and take a delicious break from the hectic pace of everyday life. At the Gatehouse Café, you are always among friends.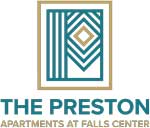 The Preston Apartments at Falls Center
3300 Henry Avenue - Philadelphia PA, 19129
267-396-7847
Pre-leasing for Summer 2018.